A Supply Chain Management view from ICPR – Innovation in Product and Production
Keywords:
Supply Chain Management, Countertrade, Contract, Supply chain performance, Value stream mapping, Order penetration point, Inventory policy
Abstract
This Special Issue of the Brazilian Journal of Operations and Production Management (BJOPM) features six papers selected from the supply chain management (SCM) track of the 21st International Conference on Production Research (ICPR), which conference theme was "Innovation in Product and Production". This introduction paper evaluates and summarizes the selected contributions characterizing SCM with a leading role in innovation management. The research presented here focuses on supply chain design and cultural influences on supply chain performance, bridges the gap between basic research and industrial application and provides approaches to effectively design supply networks and processes. Some of the dominate key topics emphasized in the six papers contained in this special issue are countertrade in supply chains, types of contracts in supply chains, value stream mapping (VSM), process management, supply chain performance measurement, order penetration points and inventory policies for distribution systems. The main research tools used are analytical hierarchy process (AHP), simulation, SCM logistic scorecard and Markov chains.
Downloads
Download data is not yet available.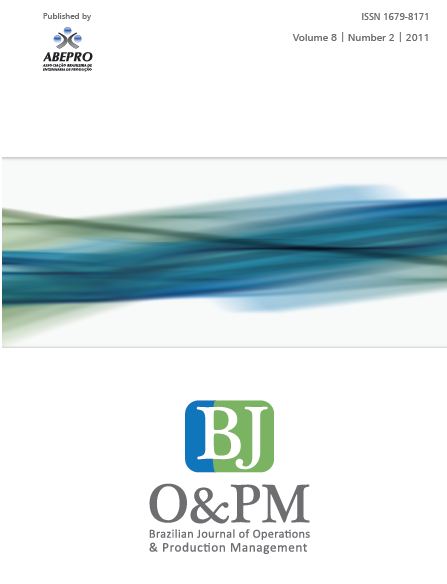 Downloads
How to Cite
Dieter Spath, D. S., Klingebiel, K., Da Costa, S. E. G., & Scavarda, L. F. (2012). A Supply Chain Management view from ICPR – Innovation in Product and Production. Brazilian Journal of Operations & Production Management, 8, 9–15. Retrieved from https://bjopm.org.br/bjopm/article/view/V8N2A1
License
Authors who publish with this journal agree to the following terms:
- Authors retain copyright and grant the journal right of first publication with the work simultaneously licensed under a Creative Commons Attribution License that allows others to share the work with an acknowledgement of the work's authorship and initial publication in this journal.
- Authors must have a written permission from any third-party materials used in the article, such as figures and graphics. The permission must explicitly allow authors to use the materials. The permission should be submitted with the article, as a supplementary file.
- Authors are able to enter into separate, additional contractual arrangements for the non-exclusive distribution of the journal's published version of the work (e.g., post it to an institutional repository or publish it in a book), with an acknowledgement of its initial publication in this journal.
- Authors are permitted and encouraged to post their work online (e.g., in institutional repositories or on their website) after BJO&PM publishes it (See The Effect of Open Access).