COMPARISON OF THE PERFORMANCE OF A SUPPLY CHAIN UNDER REBATE AND OPTION CONTRACTS
Keywords:
Supply chain, contracts, rebate, option
Abstract
The objective of this document is to compare the performance of the companies forming a dyadic supply chain, and for the chain as a single unit, under two types of contracts: option and rebate. The performance is measured in economic terms (benefits and costs) and in physical units (inventory held and unsatisfied demand). The results will help to identify which is the better contract for a given set of parameters. Under an option contract, the retailer orders a quantity of units and has a right to modify his order (increase or decrease) by buying the option premium in advance from the supplier. Under a rebate contract, the supplier offers a rebate for the units ordered over a certain number of units previously fixed.  With an option contract, the retailer reserves a number of units from the supplier and, after receiving more information about demand, he will pass his final order. With a rebate contract, the retailer will decide from the beginning the number of units to order knowing the rebate condition (price and quantity). First the theoretical bases are introduced for each contract, next both models are compared by simulation. The simulation plan is presented and the results are discussed.
Downloads
Download data is not yet available.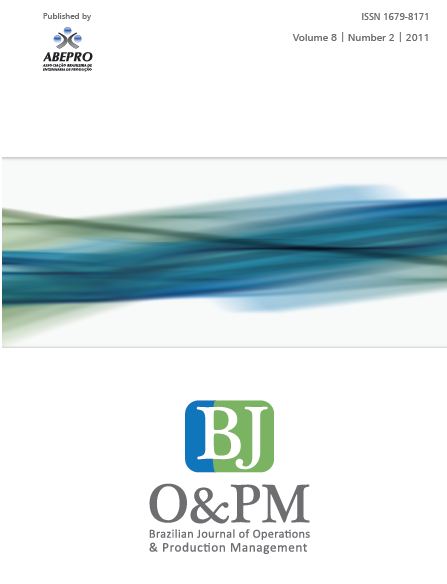 Downloads
Additional Files
How to Cite
Gomez-Padilla, A., & Mishina, T. (2011). COMPARISON OF THE PERFORMANCE OF A SUPPLY CHAIN UNDER REBATE AND OPTION CONTRACTS. Brazilian Journal of Operations & Production Management, 8, 51–65. Retrieved from https://bjopm.org.br/bjopm/article/view/V8N2A3
License
Authors who publish with this journal agree to the following terms:
- Authors retain copyright and grant the journal right of first publication with the work simultaneously licensed under a Creative Commons Attribution License that allows others to share the work with an acknowledgement of the work's authorship and initial publication in this journal.
- Authors must have a written permission from any third-party materials used in the article, such as figures and graphics. The permission must explicitly allow authors to use the materials. The permission should be submitted with the article, as a supplementary file.
- Authors are able to enter into separate, additional contractual arrangements for the non-exclusive distribution of the journal's published version of the work (e.g., post it to an institutional repository or publish it in a book), with an acknowledgement of its initial publication in this journal.
- Authors are permitted and encouraged to post their work online (e.g., in institutional repositories or on their website) after BJO&PM publishes it (See The Effect of Open Access).