Discrete Event Simulation Applied to Aircraft Development
Abstract
The trend in aerospace industry is to increase product complexity, reduce costs and integrate processes along the aircraft lifecycle. Discrete event simulation provides an important support to this challenge. Discrete event simulation techniques are a flexible tool for the evaluation of solutions, comparison of productive scenarios, analysis the impact of modifications and introduction of new processes. However, the selection of the modeling method and simulation tool is not trivial. It impacts not only on the results but also on the effort required to run the simulation. In this context, this paper analyses the applicability of two modeling and simulation approaches in different phases of the aeronautical product lifecycle. It considers the use of event oriented simulation based on Petri nets and process oriented simulation, based on the commercial tool QUEST.
Downloads
Download data is not yet available.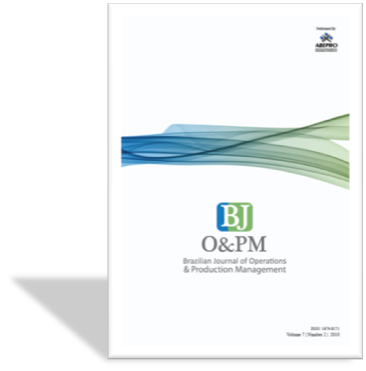 Downloads
How to Cite
Prado, R. P., & Villani, E. (2011). Discrete Event Simulation Applied to Aircraft Development. Brazilian Journal of Operations & Production Management, 7(2), 131–152. Retrieved from https://bjopm.org.br/bjopm/article/view/V7N2A7_
License
Authors who publish with this journal agree to the following terms:
- Authors retain copyright and grant the journal right of first publication with the work simultaneously licensed under a Creative Commons Attribution License that allows others to share the work with an acknowledgement of the work's authorship and initial publication in this journal.
- Authors must have a written permission from any third-party materials used in the article, such as figures and graphics. The permission must explicitly allow authors to use the materials. The permission should be submitted with the article, as a supplementary file.
- Authors are able to enter into separate, additional contractual arrangements for the non-exclusive distribution of the journal's published version of the work (e.g., post it to an institutional repository or publish it in a book), with an acknowledgement of its initial publication in this journal.
- Authors are permitted and encouraged to post their work online (e.g., in institutional repositories or on their website) after BJO&PM publishes it (See The Effect of Open Access).